Sharing Christmas Memories
Submitted by Jo Ann Wright, Woodbury Friends Meeting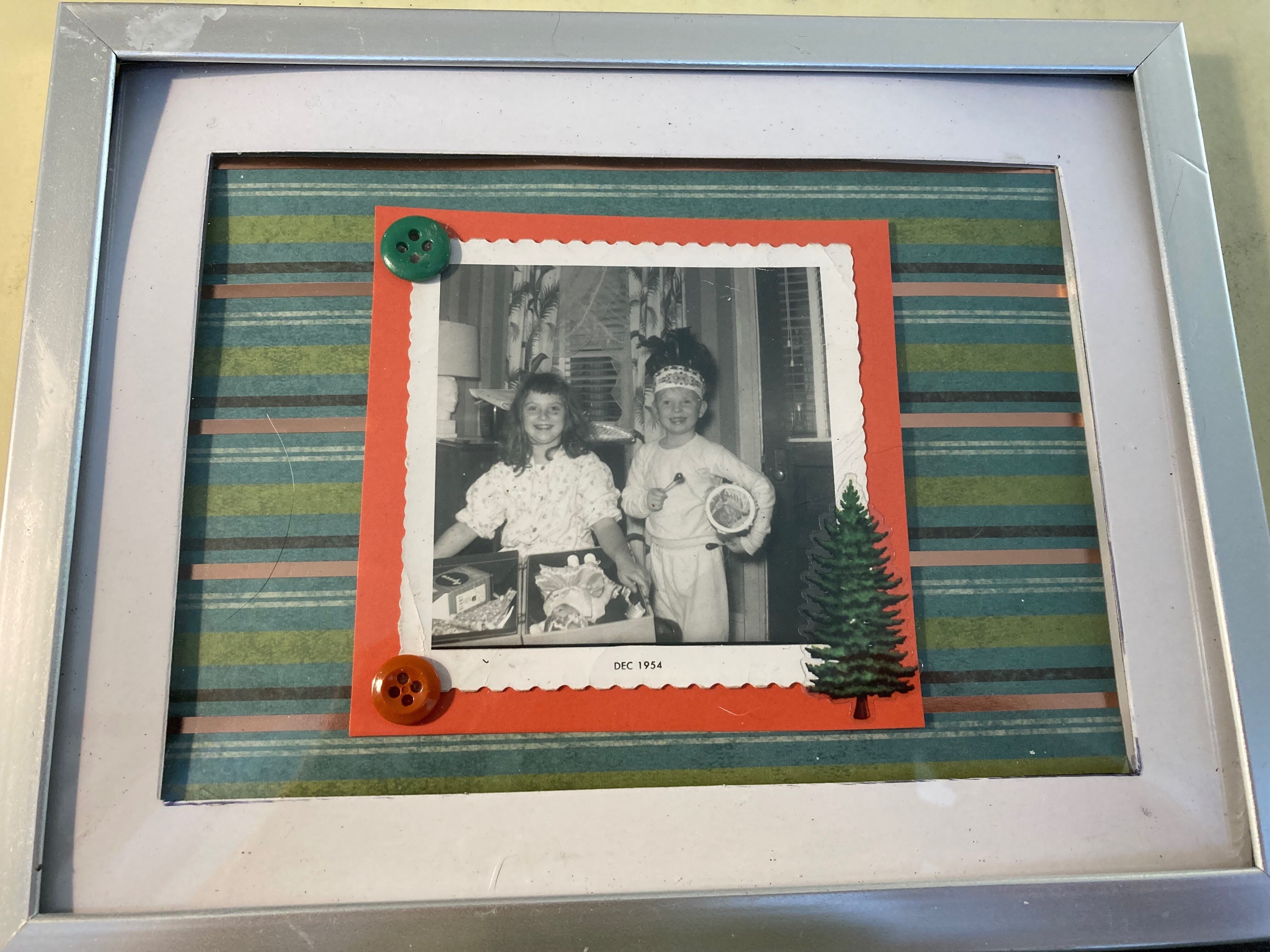 From the time I was ten and received a box Brownie for Christmas from my Mother, I have been a family history chronicler, but, how to share those photographs with loved ones? Two ideas that came to me were by making postcards, and by making framed photograph collages.

The photo collage was the simplest project. I used an old photograph of my brother and I with our Christmas gifts on Christmas morning in 1952, and with a glue stick, mounted the photo on some scrapbooking paper with some buttons and a sticker. The frame was $1.00 at the local Dollar store. My Seniors Group did this project and after we had each mounted our photos on scrapbooking paper and decorated and framed them, we shared with one another the memories from that photograph. It was a heart warming experience. As it happens, I still have the doll in the box in the photograph and it made a wonderful "Show and Tell" item.

Making a family memory postcard is easy and fairly inexpensive. Since we all have different devices, I will share with you the method I used and hopefully you can adapt to your needs. I took photographs of some old family photographs from holidays and e-mailed them to our local printing company in Woodbury, Bellia Copy Center. The young woman in charge of the design department put the photographs into postcard format and for about $30, at the time price, I had about 50 cards printed. I made postcards for Christmas, Halloween, Easter, Thanksgiving, Christmas and Valentine's Day. Here is one of the postcards I had made for Christmas which shows, on the left, my brother and me with Santa, and on the right, my father and Godfather after putting up our tree and train platform in our row house in Philadelphia in around 1955. These old photographs bring back memories tooters and make great conversation starters! Happy Holidays!